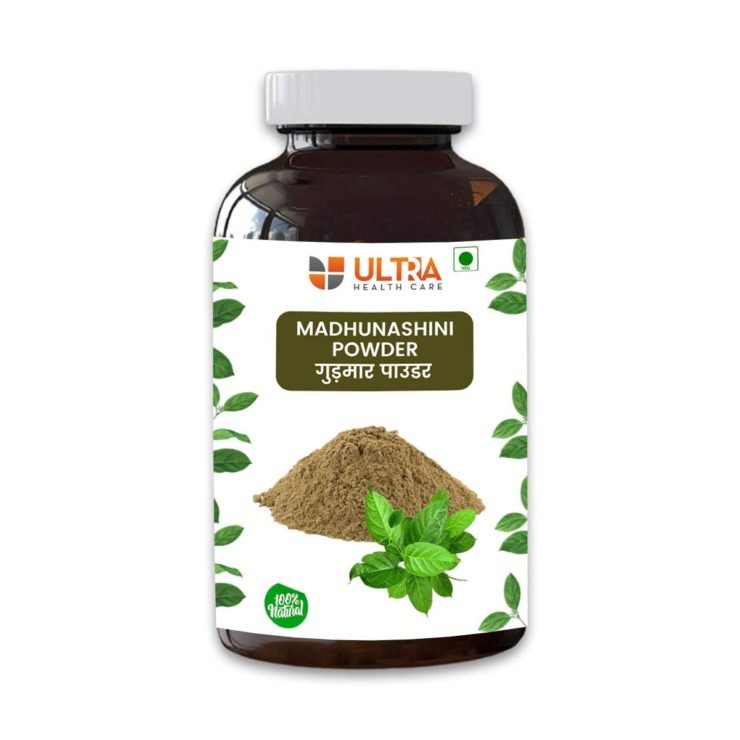 Gudmar Powder (Gymnema Sylvestre)-Ultra Healthcare
Gudmar Powder (Gymnema Sylvestre)-Ultra Healthcare
Gudmar Powder is considered a effective remedy for diabetes and diabetic patients. Because this diabetes is highly beneficial in both type 1 and type 2. It lowers blood sugar levels in the body and improves insulin levels. Benefits of Gudmar powder reduces the itching, burning sensation on the skin and also helps in effective healing of the wound. Godmar Churan also helps in reducing the level of increased cholesterol.
Indications:-
Manage Sugar level & Diabetic relief
Increasing Insulin Production
Manage Cholesterol level
Reduces Heart Disease  Risk.
Helps in Weight loss.
Prevent to Skin Fungal Infections
Description
Description of Gudmar Powder
Gudmar is even known as Meshashringi. Gudmar Powder is very effective natural medicine for diabetes problems. As per Ayurveda, this herb is known as Madhunashini due to which regulates the sugar level in the body. Gymnema Sylvestre is this herb's Latin name. Gurmar herb benefits in Type 1 and Type 2 diabetes and also effectively manages the diabetes complications.
Detailed Overlook of Gudmar Powder
Gudmar or Gymnema Sylvestre is a climbing plant that belongs to the Apocynaceae family, a popular Ayurvedic herb valued for its medicinal and healing properties, present within. It is a perennial woody vine that is indigenous to tropical regions of India, Africa and Australia. The elongated, oval-shaped leaves have soft hairs on the surface bearing small yellow flowers that bloom all through the year.
The gudmar leaves are imbued with gymnemic acids, a potent bioactive compound that acts to suppress the taste of sugar by interacting with the taste receptors on the tongue, thereby valued as a sugar destroyer and used expensively in diabetic treatment.
Chiefly, the leaf is used for medicinal purposes, and chewing fresh leaves have potential incredibly to paralyse taste buds on a temporary basis, thus this effect is because of direct interaction of active ingredients saponins with the taste buds of the same. Gudmar is even largely used in Unani and Homeopathic streams of medicine for curing diabetes, urinary disorders, obesity, breathing problems, ulcers, cough, eye issues and snakebite.
Synonyms
Meshashringi: The leaves of the plant resemble the horn of a Goat.
Madhunashini: The one that destroys the sweet taste.
Vishani: The one that counteracts poison.
Name Of Gudmar in Different Language-
Botanical Name: Gymnema sylvestre (Retz.) R.Br. ex Sm.
Hindi : Gudmaar, Gurmar, Medhaasingee
Sanskrit : Madhunasini, Ajasrngi
Tamil : Sirukurinjan, Shakkaraikkolli, Shirukurumkaay
Urdu : Sasinga
Bengali : Medhasingi
Telugu : Podapatro, Padapatri
English : Periploca of the woods
Habitat
This climbing herb grows in tropical areas, native to Asia and Australia. However, this herb is especially available throughout India in regions of Uttar Pradesh and Goa.
Traditional Uses of Gudmar Powder
Leaves are chiefly used for curing stomach problems, constipation and fluid retention.
Flowers, fruits and leaves all cure uncontrollable blood pressure, tachycardia and arrhythmias.
Both the flower and leaf extracts valuably boost eye health towards maintaining good eye vision.
The bark of the plant is effective in healing piles.
Gudmar leaf juice is best to treat dental plaque, phlegm and respiratory infections.
The action of Gudmar on Various Systems
Digestive System: This herb accelerates Liver action and also enhances the Insulin production by the stimulation of pancreas which is required in the Glucose metabolism.
Cardiovascular System: It helps to maintain the health of the heart and regulates blood sugar levels.
Urinary System: It is diuretic nature wise and thus is beneficial for urinary tract infections as well as renal problems.
Respiratory System: It eliminates accumulated mucus from the respiratory tract, proving very much beneficial in case of the respiratory system ailments.
Gudmar Powder Benefits & Uses :-
Burning Sensation: It reduces burning sensation generally in the whole body or localized ones like burning sensation in eyes, stomach, etc.
Inflammation: It helps to reduce the swelling of internal as well as external organs such as the Liver, Pancreas, Spleen and Skin.
Eyesight: It imparts good vision and alleviates the disorders of the eye.
Thirst: Beneficial to reduce thirst and dryness.
Asthma: An efficient herb in curing asthma and managing respiratory system related problems.
Bleeding Problems: It shows results tremendously in bleeding arrest and is hence beneficial in tackling all the bleeding disorders like menorrhagia, epistaxis, piles, etc.
Wounds & Ulcers: This herb promotes the early healing of ulcers and wounds.
Heart Problems: Gudmar has Kapha Vata Shamak properties, therefore it lowers the cholesterol level.
Skin Problems: In the case of psoriasis and chronic dermatitis this herb effectively handles skin problems and also useful in keloids and papules.
Gudmar Powder for Diabetes: This powder proves to be a boon for diabetic patients
Snake Bite: In case of a snake bite, gurmar herb root can orally be taken.
Parts Used of Gudmar
Gudmar Leaves
Gudmar Roots
The Ideal Dosage of Gudmar Powder
Gudmar Powder: Take 1/2- 1 teaspoon of Gudmar powder or as required by you.
Easy ways to Utilize Gudmar Powder at Home
The leaves can be chewed regularly or 1 to 2 gms of powder with cow's milk or honey is beneficial in diabetes, preferably on empty stomach.
When you cough extremely, you can consume the decoction of bark roots by boiling them in water. It eliminates the accumulated mucus from the respiratory tract.
On swelling, you can apply the paste of Gudmar Leaves.
In case of snake poisoning you can give the decoction of Gudmar roots it will induce vomiting. Even the roots paste of this herb can be applied directly on wounds of snake bite.
Take fresh juice of Gudmar herb 20-30 ml once or twice daily for maintaining liver health, improving appetite and also beneficial in obesity.
Precaution to Be Taken
As Gudmar Powder has hypoglycemic action on the body, so diabetic patients should use this medicine under the guidance of a medical supervisor because an overdose of this powder may lead to hypoglycemia.
Ultra Healthcare herbal products are made from herbs sourced from forest. All the herbs we manufacture are used in Ayurveda which is a alternative way of treatment. Ayurveda medicine evolved in India and is considered to be the world oldest healthcare system. It is named from Sanskrit word "Ayurveda "meaning "science of life".